The Statesville divisional office of the U.S. Bankruptcy Court will be open to the public once per month beginning in June 2022.  The hours of operation will be 8:30 a.m. until 4:00 p.m. Closed for lunch from 12:30 p.m. to 1:30 p.m. The dates of operation are as follows: 
June 17
July 15
August 12
September 16
October 14
November 10 (Thursday)
December 16
The office will accept filings but will not be accepting payments, all payments should continue to be directed to the Charlotte office at the following address: 
U.S. Bankruptcy Court
Western District of North Carolina
401 W. Trade St., Suite 2500
Charlotte, NC 28202
Funds tendered to the Charlotte office are required to be in the form of a certified check or money order in the exact amount required.  Do not send cash through the mail.  Failure to send the required fee promptly may result in dismissal of your case.
Please include your name and case number on all forms of payment to ensure proper credit.
Attorney filers may also submit credit card payments by using Pay.gov
Street Address: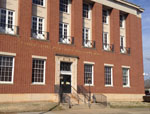 Hours of Operation: 

Effective June 2022

Once per month

8:30 AM to 4:00 PM

Closed for lunch
12:30 PM to 1:30 PM

U.S. Courthouse
200 West Broad Street
Room 301
Statesville, NC 28677

Phone (704) 871-4280
 

Telephonic Hearing Capable
Prior Chambers Approval Required
(24 hours minimum before court date) 
------
Assistive listening Devices Available
Mailing Address:
U.S. Bankruptcy Court
Western District of North Carolina
Charlotte Division
401 W Trade Street, Suite 2500
Charlotte, NC 28202
Court Hearing Time Schedule
Judge

Location

Ch. 7

Ch. 13

Ch. 11

Ch. 12

LTB

Charlotte (2A)

9:30 on Chapter 11 dates

9:30*
 

9:30

9:30*

Statesville

11:00

9:30

11:00

9:30

JCW

Charlotte (2B)

9:30

 

9:30

9:30

Shelby

10:30

9:30

10:30

9:30

GRH

Asheville

All Chapters
at 9:30

 

Asheville Chambers

All Chapters
at 10:00

 
* unless otherwise specified
 
Statesville Clerk's Office
Main Phone Number (704) 871-4280
First Meeting Time Schedule
Statesville
| Ch. 7 | Ch. 13 | Ch. 11 | Ch. 12 |
| --- | --- | --- | --- |
| 10:00 | 9:30 | 11:00 | 12:00 |